Here we have the gist of the UEFA Financial Fair Play Rules: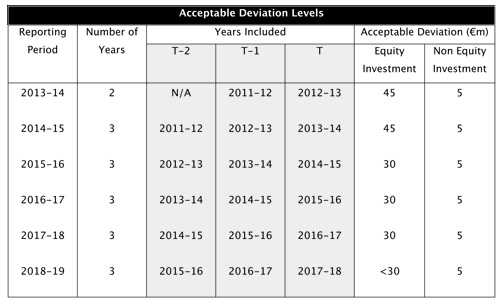 What you can see there primarily is that under the combination of the Acceptable Deviation columns (45+5 etc) is the total amount you will be allowed to claim as losses against the idea of breaking even.  Basically in 2013-2014 if you make 100 million, you can spend 145 and so on until you come to 2015-6 when it drops to 30+5, and 2018-2019 where it eventually  becomes even less.
With both 2013-4 and 2014-5 factoring in the 2011-12 season (3 seasons are accounted for each year in terms of the fair play rules) you can see why Chelsea were so eager to spend in this January window.  With our total net outlay of less than 2 million pounds we would hardly have been affected by the new rules in any case.
What this primarily does is establish a salary cap for football.  However, unlike in American sports where the cap is a fixed number here it is a number fixed as high as you can get it within the rules.  Gate receipts, TV money, corporate sponsorship, merchandising etc are all ways to build that number higher and higher, thus increasing the amount available for your club to spend on players.  We are among the leaders worldwide in most of these categories.  This isn't necessarily Fair Play for everyone, it is every man for himself just without the oligarch sugar daddies being allowed to play.
Here you have the most recent listings of the top football revenues in the world:
Register to download Deloitte Football Money League 2010 (registration required, takes 2 secs, then a pdf file)
Liverpool from year to year are approximately the 7th richest club in the world.  Of the teams ahead of us, most (Manure, Arsenal, Madrid, Barcelona,  Bayern) have much larger seating capacities when they play at home, enabling them a large advantage over us when it comes to spending potential under the new regulations.  Teams like Tottenham who are fairly close behind us now, could overtake and leave us behind should they add another 20k seats and we do not.  That said, our owners intend to take some sort of action along these lines so if we assume we'll have dealt with it in some fashion by 2018-2019 we'll be firmly entrenched in the top ten clubs worldwide, if not the top five.  The one thing the H&G regime did right was really ramp up our revenues.  Increased marketing and merchandising, along with new ideas such as the LFC social networking site under the new owners seem destined to continue blossoming as there is a massive base worldwide to draw on when it comes to anything Liverpool FC.
That said, things may not seem as bright as they could because sure Madrid and Barcelona could drop a larger transfer bid on a particular player than we might be able to but let's look at things another way.   All the clubs below us  (ie: not a top ten club in the world) will be obligated by the rules to spend less than we can if they hope to compete in Europe over the next 3 year window.  This leaves us in an impressively strong position financially going forward, it also shows why John Henry and FSG mention the fair play regulations often as I imagine it was a major factor in their getting on board with LFC in the first place. We will be a very big fish in what will be rapidly be becoming a smaller pond than before.  For the most part, we should be able to bring in whoever we feel to be the perfect fit.
Most clubs will be wishing they had a worldwide fan base to sustain and propel them onwards and upwards under the new rules, while Liverpool Football Club will be glad that they developed one years ago and did so by their actions on the pitch, not with some newfound oligarch's mountains of cash or because more cash was needed to compete. Liverpool is supported and sustained  because it has proven itself to be among the elite clubs in the world time and again.  This memory is not lost on supporters worldwide, and with Kenny in charge seems destined to shine bright yet again.
Football seems to be attempting to move beyond rewarding the clubs who have earned their place at the top table in recent years via financial doping and replace them with a more historical elite (who comprise most of the current one minus Man City etc.) while keeping those historic clubs on a more sound financial footing that should keep them on top provided they don't shoot themselves in the foot.  Big clubs equals big ratings equals big revenues for UEFA and everyone else on down that is involved in Europe.   These rules will hopefully not signal just a return to the old days but an even brighter horizon for our favorite club as we've been lightening the sky for football fans even before Sky invented football in 1992.
YNWA
You can also follow us on Twitter : @ourkop
or Facebook:  Our Kop – Facebook
We very much appreciate your likes and follows, and hope that you will show your support and let us keep you up to date on your favorite club.  Feel free to comment both here and on our other platforms, and interact with the OurKop team.